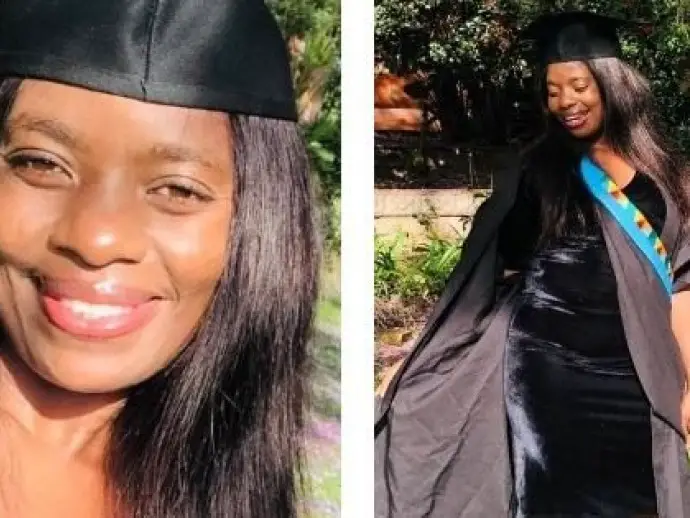 A 40-year-old woman named Sthembile Mngwengwe had always dreamed of going to college but never had the opportunity. Instead, she worked as a cleaner at a the University of KwaZulu-Natal where she would clean the classrooms and offices of the professors and students.
Despite her job, Sthembile Mngwengwe never lost her passion for learning and always wanted to earn her bachelor's degree. So, after many years working, she decided to apply to the very university where she worked.
"I was motivated by being on campus too, seeing students walking up and down going to their lecture theatres to attend classes made me wish to be them." she says.
In 2016 UKZN decided to insource their contractors. Sthembile finally got the chance to study at the university for free.
Sthembile was thrilled to be studying at the same university where she used to clean. "I was very lucky," she says. "After wishing to study for so long, I grabbed the opportunity."
At first, she was intimidated by the students and professors who seemed to have so much knowledge and experience. University, she realised, was harder than high school. She didn't do well during her first year and had to write supplementary exams for all her modules.
"Balancing work and studies gave me a lot of stress," she says.
Sthembile worked tirelessly to keep up with her coursework and balance her job as a janitor with her studies. She worked during the day and attended classes in the evening. She had to overcome many obstacles along the way, including financial difficulties and feelings of self-doubt.
"I saw myself as a failure and wanted to withdraw from the university," she recalls.
Despite these challenges, Sthembile persevered and graduated with a degree in social science. Sthembile had not only achieved her dream of earning a degree, but she had also inspired many people around her.
Sthembile's story spread quickly throughout the university and beyond, inspiring other students and staff members. Her hard work and dedication had shown that anyone can achieve their dreams with persistence and determination.
In the end, Sthembile's achievement was celebrated by many people, including the professors and students. Sthembile's story became a symbol of hope and inspiration for anyone who has ever faced obstacles and setbacks in pursuit of their dreams.