Australia
International PhD Awards in Integrated Operations for Complex Resources, Australia 2022/2023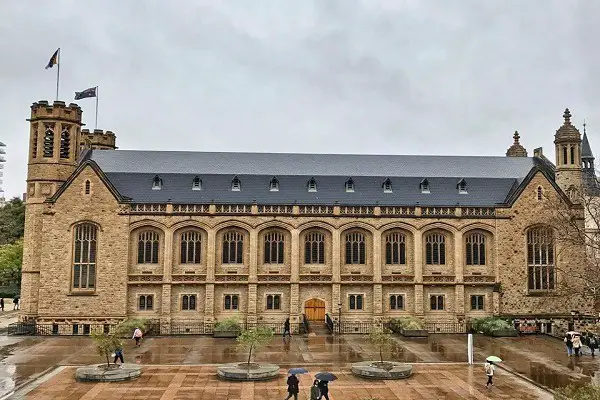 Being the third largest Australian university, the University of Adelaide has a strong history of commitment to innovation and advanced education, a reputation that remains strong even to this day, as the university is currently positioned among the best universities in the world in the top one percent. 
At the community level, the University of Adelaide is acknowledged as a significant supporter of the strength, vibrancy and diversity of the South Australian society. Renowned for the quality of their research, the university's scientists are engaged and committed to helping the world resolve its greatest problems and have a meaningful influence on its economies, healthcare, government policies and livelihoods. The specialized colleges and institutes collaborate between the fields and with industry and government partners. 
As a university, it recognizes outstanding individuals among its most valuable contributions. Adelaide has more than 100 successful Rhodes Scholars as well as five Nobel winners as its most prominent graduates. Not only do the University recruit world-leading scholars in their chosen areas, but it attracts the most talented students, whose achievements are designed to lead to a successful and challenging professional career.
One of the most respected research-intensive universities in Australia, the University of Adelaide is recognized for challenging as well as motivating its students. It is known as one of Australia's most highly rated and supported research universities, At the University of Adelaide, students are equipped with the highest level of academic development to succeed in whatever subject they choose and to acquire the necessary expertise and competencies to achieve a difference.
Scholarship Description:  
Host University: University of Adelaide; 
Host Country: Australia; 
Study Level: Postgraduate and Research Level; 
Scholarship Type: Partial Funding; 
Scholarship Worth: 34,013$; 
Eligible Countries:  National and International Students; 
Available Subjects: Mathematics, Computer Science and Engineering. 
Application Deadline: The scholarship is open. 
The International PhD Awards in Integrated Operations for complex resources are available for Post-Graduate, Researcher's, National and International students in the fields of Mathematics, Computer Science and Engineering at the University of Adelaide, Australia.  
Applicants who are successful in winning the award will receive an annual allowance of $34,013 for 3.5 years as they pursue their studies at the University of Adelaide. 
Eligibility requirements: 
Candidates are required to be first-time students in University of Adelaide.
Application process: 
In order to apply, the candidates must submit the application through the university's website. To be considered for the scholarship, the applicants are required to provide a statement expressing their desire for the award as well as the documents listed below by mail to iocr@adelaide.edu.au.
Supporting Documents:
The following documents should be presented to the university: A proof of citizenship of Australia or New Zealand, or Australian residency requirement, as appropriate: Diploma scrolls, Transcripts of academic records, Documents translated from non-English speaking countries, Proof of English language proficiency and A curriculum vitae
Admission Requirements: 
All documents are required to be submitted by the applicant upon application.
Conditions of Language:
PTE: 58; 
IELTS: 6.0; 
CAE: 176; 
TOEFL IBT: 79; 
TOEFL PBT: 577. 
Official Website:
For more details, please visit the official website:
https://scholarships.adelaide.edu.au/Scholarships/postgraduate-research/faculty-of-engineering-computer-and-mathematical-sciences/arc-0